Manchester City's Carlos Tevez banned from driving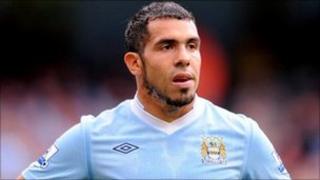 Manchester City striker Carlos Tevez has been banned from driving for six months after failing to respond to police letters about speeding.
Tevez, 28, denies he was driving when his car was twice clocked speeding.
He said he did not recognise letters about the offences were from police as he did not recognise the word "constabulary".
The Argentinian admitted two offences of failing to give police information at Manchester Magistrates' Court.
Tevez, of Alderley Edge, Cheshire, was also ordered to pay fines and costs of £1,540.
His solicitor, Gwyn Lewis, told the court: "He does understand the word 'police', but not more complicated words.
"The letters are written from Cheshire Constabulary and the word 'police' doesn't appear on it anywhere."
Lancaster magistrates imposed an interim ban in November after he failed to provide information when his car was clocked doing 39mph in a 30mph zone in Morecambe on 28 March 2012.
Tevez played for City's reserves against Morecambe reserves on the same evening.
Theory test 'problematic'
He failed to respond to letters sent to him by Lancashire Police on 3 April and 4 May, Manchester Magistrates' Court heard.
The court was told Tevez's Hummer vehicle was also clocked doing 66mph in a 50mph zone in Crewe, Cheshire, on 8 May and he again failed to respond to letters from the police about it.
The striker, who did not attend the hearing in person, admitted not having a proper UK driving licence but said he was not driving when his car was caught speeding.
His Porsche Panamera was impounded in Manchester in November as he could not produce a full UK driving licence.
Three years ago, when he was playing for City's rivals Manchester United, his Bentley Continental GT Speed was impounded in similar circumstances.
In September 2011 he was fined £60 and received three penalty points on his licence after admitting speeding in his Bentley in Stretford.
At an earlier hearing Tevez had been charged with failing to respond to a penalty notice, which he claimed he had not seen, but the charge was dropped after he admitted the offence.
As an Argentinian driving licence holder Tevez is permitted to drive in Britain for the first 12 months of his stay in the country, but is then required to apply for a provisional licence and pass the UK driving theory and practical test.
Mr Lewis said the theory test will be problematic for Tevez as it is normally conducted in English.