Suspension follows failed Lyme Green recycling centre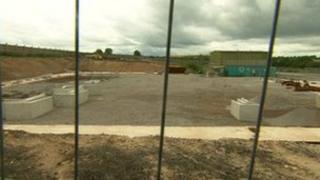 A senior member of staff has been suspended over an aborted plan to build a recycling plant near Macclesfield, Cheshire East Council has confirmed.
Work on the centre at Lyme Green, Cheshire, started three weeks before the submission of plans, which were later shelved.
The project was later abandoned, costing taxpayers more than £800,000.
Last month, the council's environment portfolio holder, Rod Menlove, resigned over the failed scheme.
The council said the action followed a confidential independent report on the recycling centre that contained findings on a number of serious allegations.
A sub-committee has since been established to act in an investigating and disciplinary capacity.
The committee's chairman, Councillor Howard Murray, said: "It should by now be clear to most people that the sub-committee has been diligent, fair and effective in the handling of this task."
Work had started on the recycling centre site on 24 October but a planning application was not submitted until 16 November, shortly before the plans were shelved.