Atiya Anjum-Wilkinson: Mother opposes father's contact bid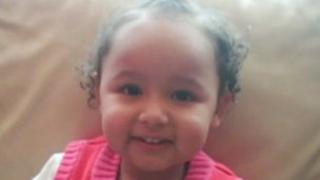 A woman whose former partner abducted their daughter and took her to Pakistan has said she will oppose his attempts to stay in touch with the girl.
Razwan Ali Anjum, of Ashton-under-Lyne, Greater Manchester, took Atiya Anjum-Wilkinson to Pakistan in November 2009.
Atiya, now aged six, was reunited with her mother Gemma Wilkinson last month.
Anjum, who was jailed after refusing to reveal Atiya's whereabouts, has said he will ask a High Court judge to allow him to have contact with his daughter.
Ms Wilkinson, 34, said she will challenge any application he makes.
"It doesn't surprise me that he wants to have contact despite what's happened, but I will oppose it," she said.
'Never see her'
Anjum, a former insurance salesman, said he was taking Atiya to Southport in 2009, but instead he took her to Lahore, Pakistan, and told Ms Wilkinson she would never see her again.
She was found at Christmas and was flown back to the UK to be reunited with Ms Wilkinson.
Anjum was jailed in 2010 after a High Court judge ruled he was in contempt of court because he disobeyed orders to return Atiya or say where she was.
He has been given additional jail terms after repeatedly refusing to comply with orders, and failed in his High Court bid to be released from prison on Monday following Atiya's discovery.
Mr Justice Holman said Anjum should stay in jail because he had not helped police find Atiya.
He is not eligible for release until March at the earliest, lawyers said.
Anjum told Mr Justice Holman he would seek to have contact with Atiya.
The judge said the issue could be raised at a future court hearing, and refused to let him speak to Atiya by telephone prior to any further hearing.
Atiya's case is next due to be discussed at a High Court hearing in Manchester before Mr Justice Peter Jackson on 1 February.