Jewel thief Charles Rodriguez who fled to Colombia jailed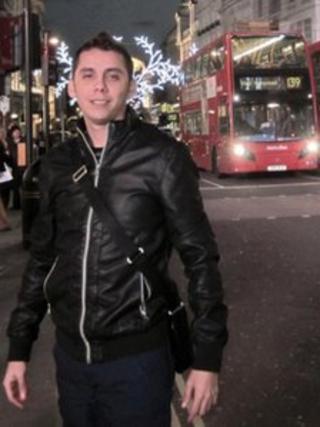 A jewellery thief who assaulted a Salford trader and stole £80,000 worth of diamonds and pearls from him before fleeing to Colombia, has been jailed.
Charles Rodriguez, 31, left the UK after the attack in October 2011, but was caught when he returned for a trip to London last December.
Police said he had posted photographs of himself shopping and sightseeing in the capital on his Facebook page.
Rodriguez admitted robbery and was jailed at Manchester Crown Court.
He was ordered to serve five years and four months behind bars.
Followed trader
Police said the Colombian, who is believed to be part of the London-based South American crime group The Latin Kings, attacked the trader as he returned from a sales trip to Manchester city centre.
The court heard how he and another man threw him to the floor, stole his car keys and took two briefcases full of diamonds and pearls from the boot.
Greater Manchester Police identified him from CCTV footage, which showed him following the trader on the day of the robbery.
However, they then discovered he had left the country the following month on a false passport.
He flew to Rio de Janeiro - where he posted more photographs of himself to Facebook - before going on to Colombia, where he knew he could not be extradited.
On 4 December 2012, he was stopped by police for driving suspiciously in London, having come into the country on another false passport.
'Jetset lifestyle'
He gave a false name, but fingerprints revealed his true identity and he was arrested, charged and remanded in custody.
Police found he had recently posted pictures of himself on Facebook, Christmas shopping and sightseeing around the capital.
Det Sgt Roger Smethurst said: "Rodriguez must have thought he was above the law and untouchable because even when he finally returned to the UK, knowing he was still wanted, he still posted pictures of himself Christmas shopping in London on his Facebook page.
"But patience is a virtue and while Rodriguez thought he was living a carefree, jetset lifestyle, our officers were gathering overwhelming evidence against him so that when he finally did slip up, there was no escape.
"I would like to commend all those who worked on what was a complex and lengthy investigation, and just as importantly hope that this brings some sense of closure to the victim who has had to wait months and months to see his attacker brought to justice."