Manchester University graphene institute plans revealed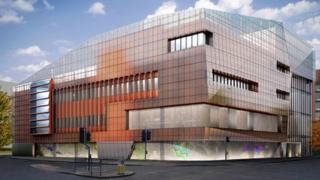 Plans for a £61m research institute to help develop the world's "thinnest and strongest" material have been released.
The National Graphene Institute (NGI), at the University of Manchester, is set to open in 2015 and create 100 jobs.
Graphene - a flat sheet of carbon, one-atom thick - is almost completely transparent and is a good conductor of electricity.
Two academics at the university won the Nobel Prize in Physics for their research into graphene in 2010.
Andre Geim and Konstantin Novoselov took the award for isolating the material and measuring some of its properties.
The university said the five-floor NGI will be the UK's "home of research" into graphene.
'Fundamentally important'
It will include a large research lab and two "cleanrooms", where experiments can be carried out without contamination.
The glass-fronted 7,600 sq m building on Booth Street East will be predominantly funded by £38m from the government.
A further £23m has been applied for from the European Research and Development Fund, the university confirmed.
Professor Novoselov said: "The National Graphene Institute is fundamentally important to continue the world-class graphene research started in Manchester.
"Our researchers and scientists will be able to collaborate with colleagues from other universities and from some of the world's leading companies, which can only serve to enhance scientific research."
The university said the long-term expectation for the centre is to create thousands of jobs in the North West and across the UK.
It added graphene has the potential to revolutionise a "huge number of applications", including smartphones and ultrafast broadband.
The material could be used to detect drugs in the body or improve airport security, according to new research published in the Nature Materials journal.