Royal Bolton Hospital cuts: Doctors asked to accept pay cut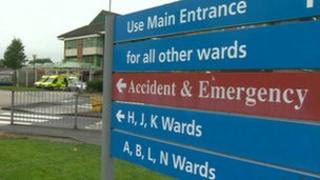 Consultants at the Royal Bolton Hospital are being asked to reduce their hours and take a pay cut, as bosses try to save £38m.
Letters have been sent to all senior doctors asking them to spend two hours a week less on non-clinical care.
Bolton NHS Foundation Trust said the proposal is being discussed with union the British Medical Association.
Protests took place last month over plans to cut up to 500 jobs at the hospital.
The union Unison has said the redundancies would "devastate patient care and put people at risk".
A trust spokesman disagreed and said they are consulting on several ideas for making savings "without affecting patient safety or quality of care", including the possibility of dismissing 1,600 staff and re-hiring them on new terms.
"Staff groups at all levels of the organisation will be affected by savings plans including senior managers," he said.
"There will be a reduction in the number of posts, and different ways of working and responsibilities will mean changes in job descriptions and frequently a reduction in grade or hours and therefore pay."
The hospital said it hopes to deal with a large percentage of job losses through natural turnover and redeployment of staff.