Oldham Council axes funding for school lollipop patrols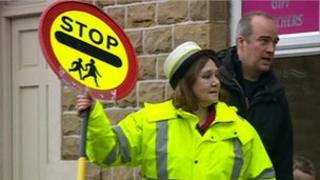 Schools in Oldham are to lose their crossing patrols unless they raise the funds themselves after the council axed the service to cut costs.
The borough council, which spends £187,000 a year on lollipop men and women, needs to cut £31m from its budget over the next two years.
It said schools should work with communities to finance the patrols.
Lollipop lady Lesley Shaw said she fears for children's safety if the service stopped.
Councillor Dave Hibbert said: "It has been decided that it's up to each school to choose if they want to continue having a school crossing patrol.
Greengrocer offer
"If they want to keep the service then it is up to them to find funding, as the main beneficiaries are the children themselves.
"Oldham Council welcomes the idea of schools working with their community to finance a crossing patrol - it's a true example of everybody doing their bit."
It employs about 40 lollipop men and women, who earn just under £5,000 a year.
Ms Shaw, who has been a lollipop lady in the village of Greenfield, Oldham, for 20 years, said: "It's got busier and busier, there's far more cars and less of them obey the speed limits.
"What worries me is if they have trouble stopping for me, what chance has a child got?"
One business in the village has offered to foot the bill for an hour each week for a year once council funding is withdrawn in April.
Ellie Stanford, of Stanford's Greengrocers, said: "We're hoping to start the ball rolling and that other businesses will chip in."