Rail firm apologises for Rochdale station closure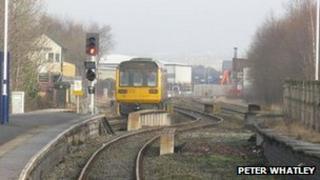 Northern Rail has apologised to commuters stranded at Rochdale station because no one turned up to open it.
It should have opened at 05:50 GMT but because of staff illness the rail firm said it did not open until 07:10.
Four trains due to stop at Rochdale, one each to York and Manchester and two trains to Selby, were unable to pick up passengers.
Amy Rustchynsky from Rochdale said the shutter was down and passengers were left outside with no explanation.
Ms Rustchynsky said: "When I arrived quite a few people were standing outside waiting and the shutter was down.
"There were two station guards but there was no explanation why it was closed. We were just left standing there."
The 06.05 to York, 06.24 to Manchester and the 06.37 and 06.56 to Selby were all affected.
A spokesman for Northern Rail, said: "We would like to apologise to anyone who was inconvenienced by this."