Michael Simpson disappearance: 'Lost' near water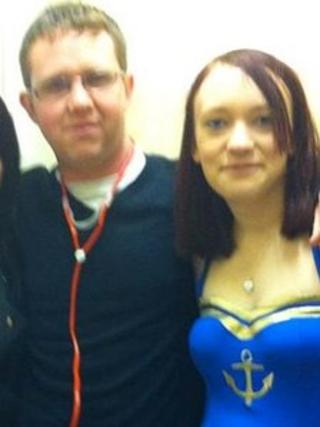 Text messages between a man who was last seen on New Year's Day and his girlfriend have revealed he was lost near water when he went missing.
Michael Simpson, 22, was last seen at a party in Bredbury, Stockport.
He sent Jennie Langley, 22, a text at around 02:30 GMT which read: "At a river. No idea where to go from here."
Supt John Berry said police were trying to "piece together Michael's movements before he went missing".
The week-long search for Mr Simpson has seen divers investigate the River Goyt in Vernon Park, where it is thought he may have fallen into the water.
Police have released what is believed to be the last photo of Mr Simpson, which shows him with Ms Langley at the house party shortly before he went missing.
Mr Simpson, from Heaton Norris, has been described as slim and 5ft 7in (1.7m) tall, with light brown hair and blue eyes.
He was wearing a black V-neck jumper with a white T-shirt underneath, blue jeans and white trainers when he went missing and had left his coat and backpack at the house on Stockport Road West.
'Incredibly hard'
A police spokesman said the warehouse supervisor had had a brief text conversation with Ms Langley, who had begun to search for him, after leaving the party.
The conversation ended with him telling her to get a taxi back to the house, adding "I don't even know how I ended up here."
Ms Langley said the past week had been "incredibly hard for myself and all of Michael's family and friends".
"For Michael to leave the party without telling either myself or his friends was completely out of character," she said.
"He is always the one that looks after people when we're out.
"Even if I've been out on my own, he waits up for me to get in to make sure I'm safe."
She added that if anyone had "any information at all, no matter how small, that they think might help us to find Michael, please come forward."