Councillor resigns over Lyme Green recycling centre scrapping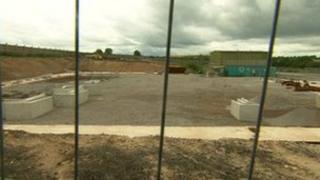 A councillor has resigned over an aborted deal on a recycling centre that cost taxpayers £800,000.
Work on the centre at Lyme Green, Cheshire, started before the submission of plans, which were later shelved.
Cheshire East Council's environment portfolio holder Rod Menlove said stepping down from his portfolio was his "only honourable course of action".
The council said "bold" changes will be made to tackle "serious management failings" identified in a report.
The review, which remains confidential, found construction work started before appropriate planning permissions were in place and it did not comply with EU regulations.
'Poor decisions'
Council leader Michael Jones said: "Lyme Green has exposed serious weaknesses in our organisational culture.
"These have caused confusion and inefficiency and have led to poor decisions by some senior staff."
He said a shake-up of management structures will start to be put in place by Easter, once agreed by councillors.
Mr Menlove, who will remain in place as a ward councillor, said he was not informed by officers of the situation.
He added: "I have taken this decision after a great deal of soul searching and reflection.
"This, I am sure everyone will agree, has been a wholly regrettable incident and one that has caused the reputation of the council to be called into question.
'Great regret'
"I work on the basis that officers discuss issues with me, we agree a course of action and I then trust the officer to follow due procedure and process in carrying out the action.
"However, as I have consistently stated, at no time was I informed of the gathering issues regarding the potential waste transfer station in the north of the borough.
"I cannot though, in all conscience, ignore the fact that this situation arose on my watch."
Mr Jones said: "It is with great regret that I accept his resignation but I look forward to using his vast knowledge and experience in the future."
In December the council announced two council workers were to be disciplined over the deal.
Work had started on the recycling centre site on 24 October but a planning application was not submitted until 16 November, shortly before the plans were shelved.