Manchester City fan who ran at Rio Ferdinand banned for three years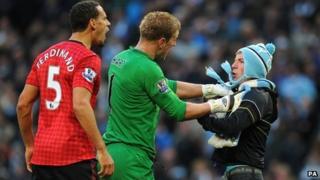 A fan who tried to confront Manchester United defender Rio Ferdinand during the Manchester derby has been banned from games for three years.
Manchester City fan Matthew Stott, 21, was stopped by City goalkeeper Joe Hart after running onto the pitch during the football match on 9 December.
Stott admitted encroaching the field of play and using insulting words at Manchester City Magistrates Court.
Along with the ban, he was given 56 days in prison suspended for a year.
The court was shown TV footage of Stott, of Knutsford in Cheshire, running onto the pitch following the United player's celebrations of Robin Van Persie's winning goal.
Andy Holt, prosecuting, said Stott, who had drunk eight pints of lager before the game, had sworn at police officers who arrested him following the incident and referred to the 1958 Munich air disaster.
'Death threats'
Rebecca Caulfield, defending, said the City season ticket holder had issued an apology through his solicitor the day after the game and could not remember the incident.
She said he had "lost his job, received death threats and his family has suffered intimidation by members of the public, in person, by telephone, camping outside his father's flat and on Facebook".
District Judge Paul Richardson, who also sentenced Stott to 120 hours of community service, said the landscape gardener had come close to going to prison.
He said that "but for the timely and appropriate intervention of the City goalkeeper, the situation would have been a lot worse and could have triggered a serious incident of disorder".
He added that it had been "difficult to associate" the glowing character references he had heard for Stott with what he had seen in the footage.