Greater Manchester bikers booby trap danger warning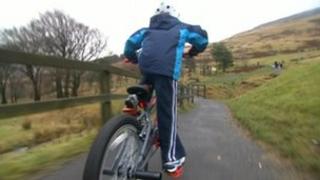 Booby traps which could kill mountain bikers have been found in a Greater Manchester beauty spot, mountain rescue teams have warned.
Black cords have been tied between trees and unstable boulders placed along popular biking areas near Dove Stone Reservoir, Oldham.
An Oldham Mountain Rescue Team spokesman said: "These traps have the ability to cause lethal injury."
Greater Manchester Police said they were monitoring the situation.
Cyclists can reach speeds of up to 40mph on the tracks at the Chew Plantation.
Professional mountain biker Jack Reading, who rides in the area, said: "The last thing you want to do is hit an obstacle you're not expecting, you're not going to have time to take evasive action.
"Riders have been decapitated by booby traps elsewhere; people obviously don't realise the severity of what they're doing."