NBA star John Amaechi thanks 'life-saving' medics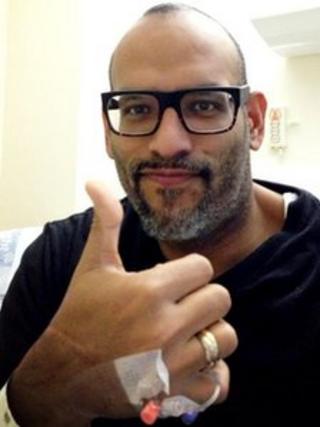 Basketball star John Amaechi has thanked two Greater Manchester hospitals for saving his life after an infection left him unable to breathe.
The Stockport-based former NBA player underwent an operation in December after being diagnosed with pneumonia.
He said staff at University Hospital of South Manchester in Wythenshawe and Stockport's Stepping Hill Hospital had provided "exemplary" care.
Mr Amaechi played for several teams in the US before retiring in 2004.
He is the only British player to earn a place in the US Basketball Hall of Fame.
The 42-year-old underwent surgery to deal with empyema, a build-up of infected fluids in the lungs.
'Really can't breathe'
He said: "I took part in a charity basketball game and I was finding it very hard to breathe, but I thought it was because I was out of shape.
"If I tried to take a big breath, there was a pain in the side of my chest - it was like a very, very painful stitch.
"Little did I know I had pneumonia at the time.
"A couple of days later, I woke up and I thought 'wow, now I really can't breathe', and I ended up calling 999 and being taken straight to hospital."
He said after being admitted, a doctor at Stepping Hill realised that he had empyema, "which just needed surgery, so they sent me off to Wythenshawe".
He said his consultant, surgeon Piotr Krysiak, had been "amazing" and that he "can't thank Stepping Hill enough for stepping in to save my life in the first place and Wythenshawe for sorting me out so I'm back home".
He added that it had been "the most painful three weeks that I have had in my life", but said he was now recovering slowly.