Failed cable thief who fell from Manchester viaduct jailed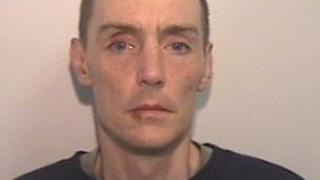 A man who fell off a viaduct while trying to steal cable from a Metrolink line in Manchester has been jailed.
John Daw suffered multiple fractures falling 50ft (15m) from the track near Cornbrook station after he ran away from staff who disturbed him trying to cut fibre optic cables on 9 May.
The damage caused tram services to be stopped for several hours.
Daw, 41, of Ordsall, admitted attempted theft at Manchester Crown Court and was jailed for two years and nine months.
Daw fell on to wasteland below the viaduct, fracturing his skull, pelvis and right leg, and had to be rescued by firefighters, who broke open a steel door to get to him.
Greater Manchester Police's John Wood said Daw, of Carmel Avenue, had put himself in serious danger trying to steal the cable.
"In attempting to steal cables from a live track, Daw risked his own life before nearly killing himself after trying to escape," he said.
"His actions caused several hours of very frustrating delays for passengers.
"When you factor in the lost revenue from commuters and the repairs to the track itself, the cost of Daw's actions runs into hundreds of thousands and all for just a few moments of sheer recklessness."
A police spokesman said the attempted theft stopped trams to Eccles, Altrincham, MediaCityUK and St Werburgh's Road and also damaged the public address system, meaning passengers could not be informed of delays.