Droylsden man stops dog attack on boy, 12, with vacuum pipe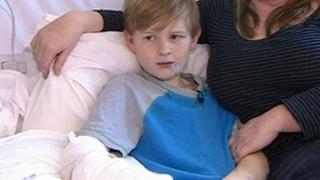 A 12-year-old boy has been saved from a savage dog attack by a neighbour wielding a vacuum cleaner pipe.
Louis Currie was riding his scooter in Droylsden, Tameside, on Sunday when an English bull terrier attacked him outside Stewart McGuinness's house.
Mr McGuinness fought the dog off with the metal pipe and Louis was taken to hospital with arm, leg and face injuries.
The dog was captured and is to be put down.
A 35-year-old woman has been charged with having a dog dangerously out of control.
'Nervous wreck'
Louis said the attack had left him "really, really scared that another dog might come and get me".
His mother Sarah Currie said the injuries meant he would "have to go to a plastics clinic and he will have scars".
She added that without Mr McGuinness's help, the attack "could have been a lot worse".
Mr McGuinness said he went out to help after hearing Louis's screams and that his only concern had been for the 12-year-old.
He added that the dog's bite had crushed the metal pipe during the struggle and he had been left shaken by what happened.
"I've not slept right since it happened and I've not eaten much - I'm a nervous wreck," he said.
English bull terriers are not one of the four breeds banned under the Dangerous Dogs Act 1991.