Greater Manchester Metrolink contractor claims extra £42m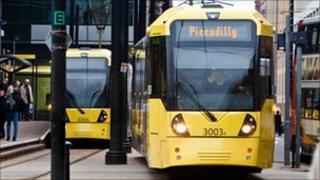 Greater Manchester's transport authority is refusing to pay an extra £42m to the firm installing the new Metrolink signalling system.
Transport for Greater Manchester (TfGM) took contractor Thales to the High Court over the claim for extra cash.
The authority said the firm's "inadequacies" led to costly delays in the Metrolink expansion, but Thales said problems were due to TfGM.
Mr Justice Akenhead said: "Something has obviously gone seriously wrong."
The firm was awarded a £22m contract to install a tram management system in 2008, as part of the £1bn network expansion.
'Fundamental failure'
However new lines to Oldham and Chorlton have experienced problems with delays, and extensions to Rochdale and Droyslden are months behind schedule.
At the High Court TfGM argued the problems have been caused by a "fundamental failure" by Thales to deliver a robust tram system and meet its contractual requirements, due to a lack of resources and inadequacies among managers.
Mr Justice Akenhead said Thales claimed the money is needed to cover extra costs due to TfGM's failures, blaming the authority for late instructions and a lack of co-operation.
The authority took Thales to court after it refused to provide documents to support its claims for more money, and accused the firm of "aggressive tactics".
Thales argued the document request was unreasonable, but Mr Justice Akenhead ruled most of the papers should be handed over within six weeks.
'Substantial delays'
He said: "The project appears not to have gone well, although the responsibility therefore has not yet been finally established.
"This project has been subjected to very substantial delays. In terms of milestones, no more than about one third are said to have been completed."
A TfGM spokesman said the authority "believes it should not have to pay these costs" but it has to consider the claim.
A spokesman for Thales said it would be inappropriate to comment at this stage.
Earlier in the week TfGM raised Metrolink fares by an average of about 4% to help fund improvements.