Metrolink fares hike to help fund new trams and smartcards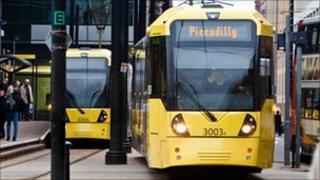 Fares for Metrolink passengers have gone up by an average of "about 4%" to help pay for new trams and planned Oyster-style smartcards.
Transport for Greater Manchester (TfGM), which oversees Metrolink, has made the move to help fund improvements due by 2014.
The network's oldest trams will all be replaced in a £64m investment scheme.
TfGM said the introduction of "smart ticketing" will need a "simpler, fairer and more affordable fare structure".
It added the increase in fares is "dependent on ticket type and journey", with about 51% of ticket prices frozen. Child fares will also remain the same or go down.
The expanding network is in the process of introducing 94 new yellow trams, with all 32 of the "older, less reliable" trams being removed from the service.
'Growing costs'
The £1.4bn expansion and improvement of the network will include services to East Didsbury, Ashton-under-Lyne and Manchester Airport via Wythenshawe.
A new Metrolink stop at Rochdale train station is due to open in the coming months, with extensions into Oldham and Rochdale town centres due in 2014.
A line between Manchester and Droylsden will open in February, serving key attractions including the Manchester Velodrome and Manchester City's Etihad Stadium.
Metrolink's line to Oldham Mumps opened to passengers in June 2012, and has since been extended to Derker and Shaw & Crompton.
TfGM said Greater Manchester's smartcards will work on "band to band fares" which are "easier for passengers to understand".
Councillor Andrew Fender, chair of the TfGM committee, said: "I can assure passengers that all the money we raise from fares goes back into the network in some way, which means fares will only ever increase to meet the growing costs of running, improving or expanding the network."
On the rail network, fares for season ticket holders have increased nationally by an average of 4.2%.
Northern Rail fares have risen by an average of 4.8% - the equivalent of around 10-20p per single journey.
A Northern Rail spokesman said the fares will "go towards meeting the costs of providing our services and funding further improvements for our customers".
Overall, ticket prices have gone up by 3.9% in England, Wales and Scotland, but prices vary between train operators.