Manchester man stabbed by Christmas Day raider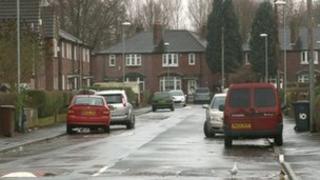 Police are looking for a burglar who stabbed a man in his bedroom in Manchester on Christmas Day.
The man woke to find the intruder standing at the end of his bed at the house in Caldervale Avenue, Chorlton, at about 05:30 GMT.
The burglar ran downstairs and picked up a kitchen knife, before returning and stabbing the victim twice in the left shoulder blade.
He then ran off with a mobile phone and a laptop.
Police said the burglar is described as mixed race, 5ft 6in (1.7m) with a slim build, thin face.
He was about 18-21 years old with dark-coloured eyes and a goatee beard.
Police are appealing to anyone with information to contact them.