Patients go missing from Greater Manchester hospital mental health unit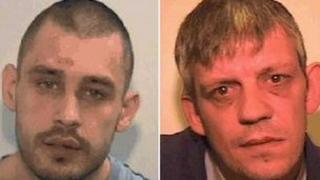 Police have urged the public not to approach two patients at a hospital's secure mental health unit after they went missing while on a day trip.
Daniel Warburton, 28, and David Cronin, 53, are residents at Birch Hill Hospital, Greater Manchester.
They were last seen at 11:00 GMT after going missing on a day trip to Gordon Riggs Garden Centre in Rochdale.
Both suffer from mental health conditions and do not have their medication with them, police said.
Mr Warburton was last seen wearing a camouflage jacket and grey tracksuit with white trainers.
Mr Cronin, who limps, was wearing a Manchester United t-shirt, black fleece, grey jogging bottoms and black trainers.
Det Insp Andrew Aston said: "It is unclear whether these men have gone missing together or it is just a coincidence.
"I would advise members of the public not to approach either of the men and to contact the police with any information."