Atiya Anjum-Wilkinson being returned from Pakistan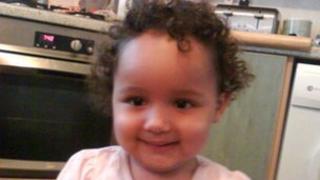 A six-year-old girl who was abducted by her father and taken to Pakistan three years ago is on her way back to the UK.
Atiya Anjum-Wilkinson was last seen when she was taken from her home in Ashton-under-Lyne, Greater Manchester, on her third birthday in 2009.
Her father Razwan Ali Anjum is serving a prison sentence for refusing to reveal his daughter's whereabouts despite a court order.
Police said Atiya would return to the UK from Pakistan at about 19:15 GMT.
North West MEP Sajjad Karim said he had received confirmation just before noon that her flight had taken off.
He told the BBC the authorities in Pakistan had been "absolutely crucial" in finding Atiya and making sure she was returned home.
Four jail terms
"They only had the matter raised with them a few weeks ago, when I raised it with the foreign minister of Pakistan in the European Parliament," he said.
"The authorities located Atiya, they monitored the address where she was and eventually moved in and informed the people she was living with - who are the extended family of the father - that she would have to return to the UK.
"There wasn't any resistance by them. Atiya was found to be in a fit and healthy state and was well at the time. She was certainly being kept well."
The BBC's Aleem Maqbool said Atiya was found in the village of Daska, near Sialkot in eastern Pakistan.
Mr Karim said the authorities provided photographs of Atiya which were sent to her mother, Gemma Wilkinson, on Christmas Day.
Ms Wilkinson, 32, of Ashton-under-Lyne, whose relationship with Anjum ended in 2008, has made several appeals for information to find her daughter.
The latest was last month, when she said not knowing Atiya was even alive was an "absolute nightmare".
Ms Wilkinson took legal action against her former partner in an attempt to force him to reveal her whereabouts.
Courts have been told Anjum said he was taking Atiya to Southport, but instead took her to Lahore, Pakistan, and told Ms Wilkinson that she would never see her again.
The former insurance salesman was handed a fourth consecutive jail term by a High Court judge in April after he refused to reveal where his daughter was.
Mr Justice Moor imposed a 12-month prison sentence after he found him in contempt of a High Court order instructing him to disclose Atiya's whereabouts.
Anjum indicated that Atiya was in Pakistan or Iran but said he did not know her exact whereabouts.
The judge said: "I am certain that he is in contempt. It is absolutely absurd for him to suggest that he does not know the whereabouts of his daughter and he cannot contact her.
"I am certain he is lying."
Another judge has previously said the case was "as bad a case of child abduction as I have encountered".
Speaking ahead of Atiya's sixth birthday, Ms Wilkinson said: "It's been an absolute nightmare.
"As to her whereabouts we know nothing. We've had no contact. I'm worrying every day, every single day. Everything is affected by it."
She added: "It's ongoing, it's been three years of trauma and nightmares. I can't sleep at night. I just want to know she's OK, she's being looked after.
"We haven't celebrated her birthday since she went missing but I've bought her presents each year - they are waiting for her to open when she comes home.
"I had no reason to believe that she was at any risk. There had been a standard routine, there hadn't been any problems with the arrangements."
Police published a computer-generated image of what Atiya might look like now a day before her sixth birthday in November.