Salford Crescent £12m improvements begin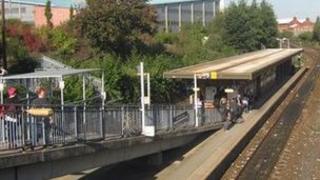 A new £12m refurbishment project is due to start at a railway station in Greater Manchester.
The scheme, at Salford Crescent railway station, is designed to improve chronic overcrowding on the platforms.
Steel piles will be driven into the Manchester end of the station to provide support for a new ticket office, footbridge and staircase that will be in use by early 2014.
The work starts at 22:00 GMT and continues until 29 December.
Network Rail said the improvement works would create more space for passengers and includes a lift to make the station fully accessible for wheelchairs.
During the works there will be a limited train service on some routes through Salford Crescent, with a replacement bus service on the Manchester Victoria to Bolton and Manchester Victoria to Wigan Wallgate via Atherton routes.