Charity partnership for Christie cancer centre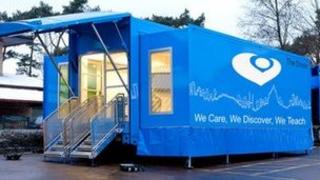 A specialist cancer centre in Manchester has been chosen as the inaugural charity of the year for 2013 by BBC Radio Manchester.
The Christie was chosen from 33 charities that applied for the partnership.
The charity will be raising funds for a £700,000 mobile chemotherapy unit to treat hard-to-reach communities in Greater Manchester.
Throughout the year, listeners can get involved in fundraising activities.
The Christie's chief executive Caroline Shaw said the mobile chemotherapy unit would "bring expert Christie care closer to patients' homes".
Improve care
She added that the treatment would "save precious time and travelling costs for around 80 patients a week".
BBC Radio Manchester listeners will able to follow the stories of patients, staff and volunteers at The Christie.
When the target for The Christie's new mobile chemotherapy unit is reached, the partnership will start to raise money for a new integrated teenager cancer unit and haematology and transplant unit (HTU), which will improve care for patients treated for cancers such as leukaemia and lymphoma.
Kate Squire, managing editor of BBC Radio Manchester, said: "It was a really difficult selection process with so many deserving causes across our patch, but we are pleased to be able to support The Christie."
The Christie treats more than 40,000 patients a year, with about a quarter of patients referred from other parts of the country for specialist treatment.