Homer Simpson stolen from Manchester church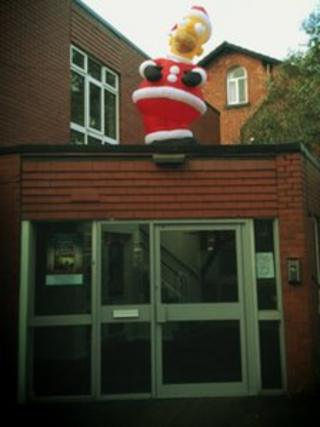 A Manchester church is appealing for help to find a seven foot figure of Homer Simpson, which went missing from the roof.
Ivy Manchester Church, on Barlow Moor Road, Didsbury, said the illuminated inflatable was last seen on Thursday.
Members at the church think the figure, which had been up for two weeks, was taken between 01:00 and 08:00 GMT.
Church leader Anthony Delaney has promised a reward of a box of mince pies for any information.
He said: "He had become a bit of a local landmark, we were starting to say that we were the church with the Homer on the roof.
"I went to check it in the morning and he had gone, so we are all feeling a bit deflated.
"We would forgive whoever it was that took it if they brought it back, in the spirit of Christian Christmas forgiveness."