Pretoria Pit mine disaster memorial unveiled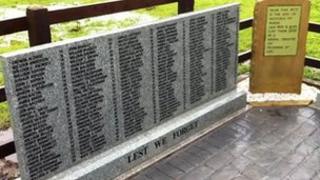 A memorial marking where 344 men and boys died in one of the UK's worst mining disasters has been unveiled.
A huge explosion ripped through the Hulton Colliery, known as the Pretoria Pit, on the outskirts of Westhoughton near Bolton, on 21 December 1910.
Tony Hogan, whose great-grandfather died in the disaster, said no-one should "forget the people who gave their lives for the price of coal".
The stone memorial bears the names and ages of all those who died.
Labour MP for Bolton West Julie Hilling, local councillors and members of the deceased miners' families will hold a ceremony to officially dedicate the memorial later.
Mr Hogan, who organised for the memorial to be put up, said the disaster had a devastating impact on Westhoughton as among those killed were "fathers, sons and their sons as well".
"It's something my mum always talked about - the hardship after the disaster, as well as the disaster," he said.
On the day of the tragedy, 898 men and boys had been working underground and almost every family in the town knew someone who was affected by the blast.
The youngest victims were just 13 and the eldest 61. It took weeks to bury all of the bodies.
The new memorial stands in a field close to where the Pretoria Pit used to be and replaces a simple stone marker which paid tribute to the dead.
The pit was closed in 1934 and the site was cleared of mine buildings.
A sculpture marking the centenary of the disaster was unveiled in the centre of Westhoughton in 2010.