Silent robber holds up Salford bank with written note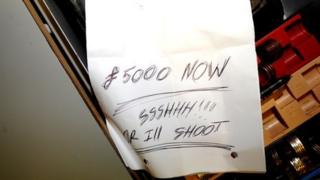 A silent robber has held up a bank in Greater Manchester by handing a cashier a note ordering the teller to hand over £5,000.
The note was handed in at a bank in Salford and read "£5,000 NOW SHHH!!! OR Ill SHOOT".
No weapon was seen and the bank employee handed the cash to the robber, who fled the scene.
Some cash was later found, stained with dye from a security pack within the money which had been activated.
The raid, a week ago, took place at a NatWest branch in Bolton Road, Irlams o' th' Height.
Police said a quantity of the cash had been found behind Bolton Road, at the junction of Irlam Square and Ellery Road, after the security dye pack had been activated.
Det Con Allan Barker said: "The bank robber calmly walked up to a staff member, handed over a threatening note and then left with some cash."
He added the robber could have stained hands or dye on his clothes and said he hoped people recognised the handwriting.