Gary Parkinson's home for the 'best Christmas ever'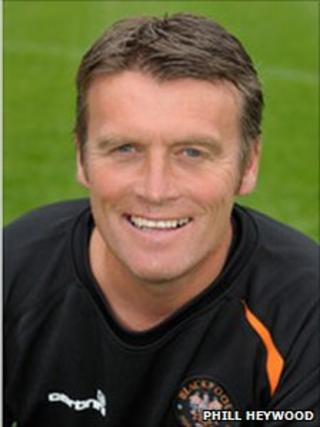 This year will be "the best Christmas ever" vows the wife of former professional footballer Gary Parkinson.
There has been little cause for celebration in the Parkinson household since Deborah's husband had a stroke which left him with locked-in syndrome - meaning he is unable to move, speak or swallow.
However, she says it will be a wonderful Christmas this year because her husband is back home after over two years in hospital.
The former Middlesbrough, Preston North End, Burnley and Blackpool player was working as a youth team coach at Blackpool FC when he suffered a stroke in September 2010.
She said their son, who is back from university, and two daughters are ecstatic to have him back at their Westhoughton home.
"It's tremendous news - we are on such a high.
"We have finally got Gary back home with his family after two years and we are looking forward to Christmas day all being together once again."
She is hoping his home comforts will boost his progress.
"He's sleeping like a baby now he is back in his own bed.
"We are seeing improvement. Medically, his breathing is stable now and we're working on his mouth and speech... then we'll look into other therapy.
"It will take a lot of hard work and financially it won't come cheap but we've started off with a good team and we'll work round that."
Adapting well
Mrs Parkinson knows there is a long road ahead.
He requires 24-hour care from a live-in medic as well as a nurse visiting every couple of hours. The house has also had to be specially adapted for his return.
"The hard work will start for us now but we are just relishing the fact that Gary is home with us," she said.
"We have been building up to this for two years and I know we have got a hard time ahead of us. It's a change - but we are looking forward to that change and we are happy to do that."
She knows that being back home may initially be a tough adjustment for her husband.
"It's difficult in that it is a little bit different to the home that he left but he's got to adjust to that.
"He's doing well; he's adapting really well.
She said his homecoming was only possible because of the generosity of fundraisers.
"The support has been unbelievable. I can't thank people enough."
Mrs Parkinson said she would normally be rushing around buying presents and doing last minute jobs at this time.
"All those have been put on the backburner because all we are bothered about is that it's nice for Gary just being here.
"Presents are a little bit irrelevant this year. I don't think the children are bothered if they get anything on Christmas morning."
She added: "Gary being at home with us is the biggest present we could wish for."