Manchester City's Courtney Meppen-Walter 'not racing'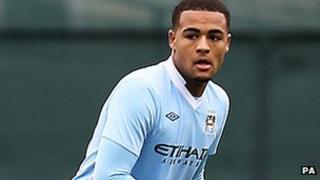 Police have concluded a Manchester City footballer was "not racing" another car before a crash that killed two people.
Kulwant Singh and Ravel-Kaur Singh died when their car collided with Courtney Meppen-Walter's vehicle on 1 September.
Sgt Danny Byrne said he was "satisfied" a Volkswagen Golf, which had been investigated, was not involved.
Mr Meppen-Walter, 18, was rebailed on suspicion of causing death by dangerous driving while the Crown Prosecution Service decide if he will face charges.
The 19-year-old driver of the Golf, who was arrested on the same charge, has been released from bail without charge.
Ms Singh's two sons, who were injured in the crash, are "making a good recovery", a police spokesman said.
Mr Byrne said it was an "incredibly complex and sensitive investigation [but] having reviewed all the available information and evidence, I am satisfied that the vehicles were not racing each other".
He added that a "file of evidence" had been passed to the Crown Prosecution Service and Mr Meppen-Walter had been rebailed until 24 January.