Manchester Cathedral 'could close for eight months'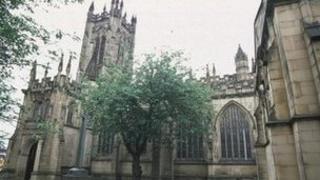 Manchester Cathedral is asking permission to close for eight months next year, to carry out major works on the building's heating system.
The Grade I-listed building on Victoria Street needs the under-floor heating system replacing.
Dean of the Cathedral, the Very Reverend Rogers Govender, said services would still take place in a temporary structure nearby.
He said the current heating system "has died on us".
"Because it's under the floor, we have to dig up most of the cathedral nave to replace the old pipes," he added.
"Many people who come into the cathedral for services and events are finding it a rather cold place."
The Cathedrals Fabric Commission for England, the national body overseeing certain types of work to cathedrals, will meet in January to discuss the cathedral's plans.
The dean said the cathedral would close after Easter next year.
In recent years the cathedral has increasingly been used as a venue for concerts by bands including Elbow, as well as formal dinners and awards.