Shaw blast: Residents' long wait to return home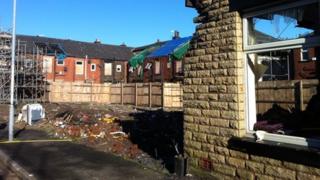 Residents of a street destroyed by a gas blast that killed a toddler have said they are frustrated about not being able to return home.
Two-year-old Jamie Heaton died when houses collapsed on Buckley Street, Shaw, Greater Manchester, on 26 June.
Neighbour Andrew Partington, 27, admitted causing the blast at Manchester Crown Court last month.
Eight homes were demolished and 17 more need repairs, which could take years according to Oldham Council planners.
The home Jackie Hunter lived in for 23 years remains in exactly the same state she left it when the explosion happened, down to the dishes in the kitchen sink.
'Frightened and devastated'
Ms Hunter has been able to revisit the house but, six months on, she says she does not know when she will be able to move back in.
"It's really bad, it's dangerous," she said. "I had hoped I would be back in the house for Christmas. I feel frightened and devastated."
Janet Ferreira and mother Norah Pearson have been able to get into their house to pick up some photographs, but Mrs Pearson said: "We don't seem to be getting anywhere with anything.
"It will be after Christmas [that we can move back home] because they've not started yet.
"All the houses in the explosion are being fumigated one by one."
The street remains gated off, with most homes on one side demolished and those on the other side sealed off behind protective boards and 24-hour security teams in place.
Experts say that although it may be frustrating for other residents who have to live next to a building site, rebuilding is a more complex issue than they might think.
'Return to normality'
Mark Smith, senior building control officer, said: "We've still got dangerous buildings on site, they have to be assessed each month. We have to take it one step at a time."
The future of the site remains in question as discussions take place between the freeholder of the land, 25 homeowners or leaseholders, several tenants, 10 different insurance companies and an army of safety experts and council planners, as well as other residents.
Once decisions are made the tender process for the construction and repair work will take more time.
Jameson Bridgewater, head of planning and infrastructure, said: "We're working with the freeholder to take decisions and what happens next is not the council's decision to make - our role is to make sure the insurance companies work together.
"A lot of the decision-making process rests with the people that own the houses - it's not straightforward. We will probably get some sort of redevelopment over time, but it could take a few years."
About £300,000 has been raised for the residents affected and most of that has been used to pay for their rent deposits on temporary accommodation and furnishings.
Councillor Jean Stretton said: "People just want to return back to normality as soon as possible."