Extra police in Christian Brothers college abuse probe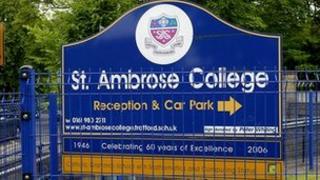 More officers are being drafted in to investigate allegations of historical sex abuse at a Catholic college in Greater Manchester.
The alleged offences involved staff at boys-only St Ambrose RC College in Altrincham from the 1960s to 1980s.
A 63-year-old man from Trafford was arrested on suspicion of indecent assault and possessing indecent images last month and bailed until March.
The investigation has been extended due to the response to an appeal.
The man was arrested over allegations of an incident in the early 1980s when the victim was a 17-year-old pupil.
Det Insp Jed Pidd, from Trafford's Public Protection Investigation Unit, said there had been a "significant response" to an appeal for information from past pupils at the college, run by the Christian Brothers religious order, and the opening of a hotline on 6 December.
'More officers'
"It is fair to say that the size of this investigation has grown given the response from members of the public," he added.
Det Ch Insp Chris Bridge, from the force's Public Protection Division, said a dozen officers were now involved in the investigation into allegations of physical and sexual abuse from the early 1960s to the late 1980s, after more specially-trained officers were added to the team.
A statement from the college after last month's arrest said staff were "deeply concerned" by the allegations and the college was co-operating with the police inquiry.
The college was founded in 1946 and has links to the Irish Christian Brothers & Edmund Rice Schools.
In Ireland, the religious order has had more allegations of abuse made against its brothers than any other in the Roman Catholic Church.
In 2009, the order announced it would be paying £145m in reparations.