Paper icicle installed in Manchester Art Gallery atrium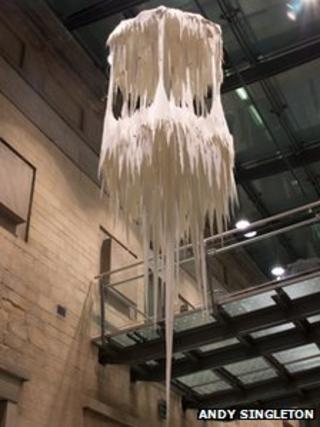 A large paper icicle has been installed at Manchester Art Gallery as part of its Christmas celebrations.
Andy Singleton's Ice Structure is a 3.5m (11ft 4in) high piece made from hand cut, scored and folded paper.
The Wakefield artist said it had been "inspired by flowing ice forms such as icicles and frozen waterfalls".
The city centre gallery is currently hosting The First Cut, an exhibition dedicated to paper art.
Mr Singleton, who graduated from Manchester Metropolitan University in 2006, said it felt "really special" to have created such a work for the city.
"It feels fantastic to create a new piece for the gallery and in such a prominent place," he said. "It's a really great space inside a beautiful gallery."
'Slow process'
He said the piece had had its "tricky moments but overall was not too bad".
"I decided to go for a single large sculptural piece that would be suspended in the atrium, so the viewer could view the work from both below and straight on."
He added that "one of the biggest headaches" was the size of the work.
"I could not construct the piece fully in my studio, as it had to be broken down for transport to the gallery.
"This meant the piece had to be built in-situ at the gallery, which was a slow process."
The artist also has a piece called Stellar Spire in the Eagle Nebula, which is based on images seen through the Hubble space telescope, included in The First Cut.