Work begins on 'giant Meccano bridge' in Bolton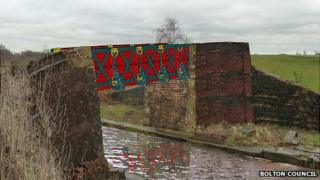 Work has begun on the construction of a "giant Meccano-style footbridge" in Greater Manchester.
The £90,000 steelwork bridge, designed by artist Liam Curtin, will cross the Manchester, Bolton and Bury Canal at Nob End in Bolton.
The structure, which has a span of 6.4m (21ft) and a height of 1.3m (4ft 3in), is being built on the site of a disused horse bridge.
Mr Curtin said building the bridge was the fulfilment of a childhood dream.
A spokeswoman for Bolton Council said it was being funded through an agreement with a developer as part of a local planning application and built by the artist, members of the Manchester, Bolton and Bury Canal Society and local volunteers.
Mr Curtin said he had spent his entire childhood building with the toy construction material and was excited to have the "largest set in the world".
"It wasn't until I actually saw the finished pieces arriving from the factory that I realised we had created something quite wonderful," he said.
"As members of the canal society unpacked the lorry, they appeared like Lilliputian figures in a magical toy world."