Cyril Smith allegations: CPS finds files on bribery allegations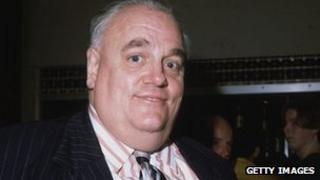 A search of historical files has found allegations of obscene publications and bribery relating to Sir Cyril Smith, the Crown Prosecution Service has said.
The CPS started the search following an admission that the late Liberal MP for Rochdale should have been prosecuted for abusing young boys in the 1960s.
A spokesman said two police referrals had been found in a search of the Director of Public Prosecutions' files.
No charges were ever brought against Sir Cyril, who died in 2010.
Twelve men have so far accused Sir Cyril of abusing them in the 1960s at Cambridge House Children's Home, a privately-run care home which closed in 1965, and the council-run Knowl View residential school, which shut in 1992.
The CPS spokesman said a search of documents from the DPP's office, which was responsible for bringing prosecutions until 1986, had found one referral made in the early 1970s and one from the early 1980s.
'Openness and transparency'
He said the former was "over an allegation or allegations relating to indecent obscene publications" and the latter "over a claim or claims relating to the Public Bodies Corrupt Practices Act 1889".
The 1889 act, which was repealed when the Bribery Act 2010 came into effect, outlawed the bribery of a member, officer or a servant of a public body.
The spokesman said the CPS could not determine the extent of either of the allegations and what, if any, action was taken.
"No further detail or information is contained in the records and there are no files in our possession which relate to them", he said.
"We are therefore unable to determine the detail of the offences, the extent and credibility of any evidence or if any action was taken."
He added that the referrals were being made public "in the interests of openness and transparency".
Sir Cyril stood down as the Liberal Democrat for Rochdale in 1992. He had been a Labour councillor in the town in the 1950s and 60s.