Metrolink from Manchester to Droylsden to open in February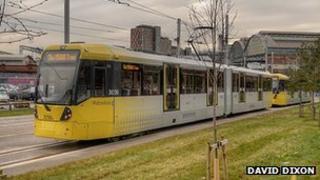 The new Metrolink line between Manchester and Droylsden will open in February, seven weeks behind schedule.
The line will be opened on Monday 11 February, but will offer free travel to local people for three days ahead of the official launch.
The new tram route will serve the Manchester Velodrome and Manchester City's Etihad Stadium, as well as the regenerated area of New Islington.
Councillor Andrew Fender said the delay was "disappointing".
Mr Fender, chair of the Transport for Greater Manchester (TfGM) committee in charge of Metrolink, said the delay had been caused by a tram management system not being available "within the prescribed timeframe".
He said: "While it's disappointing to be seven weeks beyond the revised target, we're confident we'll be opening the line in February."
The Droylsden line will take in eight new stops - New Islington, Holt Town, Etihad Campus, Velopark, Clayton Hall, Edge Lane, Cemetery Road and Droylsden.
A TfGM spokesman said an extension to the line which would take it through to Ashton-under-Lyne was due to be opened by the end of 2013.