Man jailed for broken eye socket attack in Hyde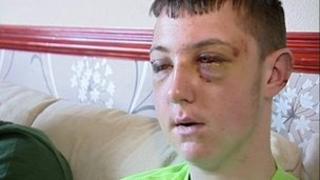 A man who left a Greater Manchester teenager with a broken eye socket has been jailed for two years.
Ali Haydor, 22, of Croft Street, Hyde, attacked Daniel Stringer-Prince, 18, because he incorrectly thought the teenager had been throwing snowballs.
Mr Stringer-Price suffered permanent eye damage and a fractured skull in the attack in Hyde in February.
Haydor pleaded guilty to assault at an earlier hearing in Manchester Crown Court.
The unprovoked attack, which involved Haydor and others, happened as Mr Stringer-Prince and his friend Kavan Brown passed a takeaway in Market Street.
Mr Stringer-Prince's mother Cheryl Stringer said the attack had left him partially sighted with double vision and too traumatised to go into Hyde town centre.
"I didn't even recognise him when I saw him in hospital after the attack," she said.
"He's needed two new eye sockets, he's got three metal plates in his face to try and rebuild it," she added. Her son will also need further surgery.
Det Insp Dave Moores said: "What started off as quite a trivial matter of people throwing snowballs, was escalated much further by others including Haydor, who subjected one of the victims to a wholly undeserved and violent attack.
"This man has now been left with lasting injuries, including damage to his sight in one eye, but the consequences of this assault could have been far worse."
He added: "People in the Hyde area were horrified at news of this attack and in the days afterwards, the community came forward with information that helped us piece together the events of that night."
No one else has been charged in connection with the attack.