Lucy Powell: Newly-elected MP announces pregnancy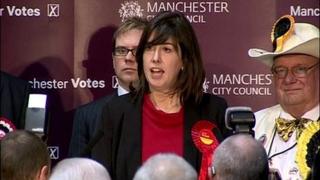 Manchester's newest MP Lucy Powell has announced she is pregnant.
Ms Powell became the first Labour woman to be elected in the city of Manchester, when she won the contest for Manchester Central last month.
The MP's second child is due in May and most of her maternity leave will take in Parliament's summer recess.
The by-election was triggered by Labour's Tony Lloyd standing down as MP to run as police and crime commissioner candidate for Greater Manchester.
Ms Powell did not announce her news during her election campaign because the pregnancy was still in the early stages.
She said she would continue with constituency work during the recess.
'Working mum'
The MP, who said she has always managed to be a working mum, added: "Obviously the timing is perhaps not ideal but my husband James and I are really thrilled and excited to be expecting.
"I will take a short time out from being in Parliament when the baby is born but I'll still be doing my constituency work - just with another baby in tow.
"I have run a general election campaign pregnant and ran Ed Miliband's leadership campaign commuting to London with a new baby so I already have my system set up."
Ms Powell is not the first Labour MP to win an election in Greater Manchester while expecting a baby.
In 1997 Ruth Kelly campaigned for Bolton West, while heavily pregnant, and the baby was born 11 days after polling day.