Cyril Smith 'raped some of his victims', MP says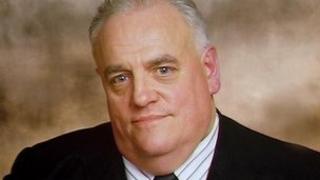 There is little doubt that former Rochdale MP Sir Cyril Smith raped some of his victims, the town's current MP has claimed.
It comes after the Crown Prosecution Service (CPS) admitted Sir Cyril, a Lib Dem, should have been prosecuted for abusing young boys in the 1960s.
Labour MP Simon Danczuk said the allegations of rape had been made by people who attended Knowl View.
The council-run residential school closed down in 1992.
The abuse by Sir Cyril was also said to have taken place at Cambridge House Children's Home, a privately-run care home which closed in 1965.
'Raped children'
Twelve men have so far accused Sir Cyril of abusing them in the 1960s, police have confirmed.
Mr Danczuk said: "We now know from other victims (of Cambridge House) that indecent assault is what he would have been prosecuted with but his abuse went on from there.
"There is no doubt about it from the witnesses that have come forward that rape would have been included in the allegations against him, absolutely.
"That is what is alleged by people who were at Knowl View, which is a special school within Rochdale local authority area, and that is where it is alleged - and it is openly out there - that he raped children."
Procedural changes
A Greater Manchester Police (GMP) spokesman said eight victims originally came forward in the 1960s, with two more coming forward in 1999 and a further two making claims following recent media coverage.
The CPS has admitted Sir Cyril, who was a Labour councillor in the 1950s and 60s, should have been charged with sex crimes more than 40 years ago.
Although he faced no action following inquiries in 1970 and the 1990s, the CPS said procedural changes meant a prosecution would have been pursued today.