Royal Bolton Hospital cuts: Rally held in town centre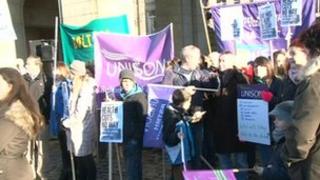 Hundreds of people joined a rally to protest over plans to cut up to 500 jobs at the Royal Bolton Hospital.
Bolton NHS Foundation Trust has said the posts may have to go as it needs to save £38m over the next two years.
It has already had to borrow £8m from the government to pay staff wages and is considering dismissing 1,600 staff and re-hiring them on new terms.
The rally, organised by Bolton Save Our A&E Campaign, took place in Cheadle Square, Bolton, at 12:30 GMT.
All staff at the trust have been told about the job-cut plans and a 90-day consultation is under way.
Patient care
Karen Reissmann, a Unison representative from the Save Bolton A&E campaign, said people were supporting their campaign as health services were under threat.
She said: "They have threatened 500 job redundancies which include nurses, midwives, doctors, therapists, medical secretaries and medical estate staff.
"I just think if 500 people go from the hospital, there is absolutely no way that we can provide the sort of patient care that we want to.
"They are talking about 500 fewer posts - 12.5% of our workforce will be gone one way or another within a few months. I just think think that will devastate patient care and put people at risk.
"That's why people are here today, we know our hospital is under threat with people talking about closing A&E and even the hospital altogether, if 500 staff go, that makes that more likely."
'Natural turnover'
The trust has said it has no current plan for any closure or downgrading of the A&E services.
It said fears about closure came from a review of hospital service provision across Greater Manchester which is under way.
It said: "Providing a comprehensive care service for the people of Bolton is a key strategic objective of the organisation and we plan to continue to provide the best possible service to our patients across both hospital and community services which we manage."
It said there is a possibility of up to 500 people potentially being made redundant but it hopes to deal with a large percentage through natural turnover and redeployment of staff.