World Aids Day: Procession held through Manchester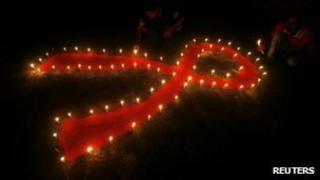 A procession has been held in Manchester to mark World Aids Day.
Those taking part in the event, which is in its first year, carried candles and lanterns in the parade.
The procession, which passed through the city's gay village, ended with a candlelit vigil in Sackville Gardens.
Manchester has the largest number of people accessing HIV treatment in the country outside London, the city council said.
The event has been organised by the Manchester World Aids Day Partnership, which comprises Manchester City Council, NHS, George House Trust, Brook Manchester, BHA, Fresh and The Lesbian and Gay Foundation.
Kevin Peel, the council's lead member for gay men's issues, sadid: "This is the first time we've ever had a procession to mark World AIDS Day and it really has two purposes: to remember and celebrate those we have lost to this virus, and to encourage people to find out their HIV status.
'Does not discriminate'
"Treatment has improved so much in recent years to the extent that if you're diagnosed early you can expect to live just as long as someone who is HIV negative.
"But the key thing is to find out your status - and getting tested has never been easier."
He stressed that the virus can affect anyone.
"While HIV is particularly prevalent in some communities in Manchester, the virus does not discriminate so if you have had unprotected sex then please get tested," he continued.
"It's easy and painless. You can do it at your local hospital, at a number of walk-in clinics across the city or at your GP's surgery. You can even have a free testing kit sent to you in the post."