Marilyn Monroe graduation photo auctioned in Stockport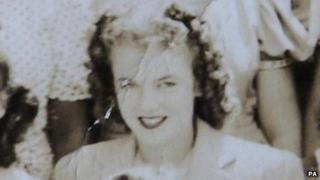 A rare photo of Hollywood star Marilyn Monroe at her school graduation has sold for £990 at auction in Greater Manchester.
The 8in x 24in (20cm x 60cm) photo from 1941 was sold by a man who had bought it from one of Monroe's classmates.
It was taken at the Ralph Waldo Emerson Junior High School in Los Angeles.
Karen Fairweather, of Omega Auctions in Stockport, said the only other photo from the event had fetched £15,000 because it boasted Monroe's signature.
The photograph, which sold to an online UK bidder, had belonged to one of the actress's classmates called Barbara Chapbaum, who had it signed by several of her friends but not the future Hollywood legend.
A collector from the North East of England bought it off Ms Chapbaum several years ago and has now sold it.
At the time of the photograph, Monroe, then aged 15, was a brunette whose real name was Norma Jeane Baker.
Five years later she began modelling which eventually led to her acting career which saw her star in such movies as Gentlemen Prefer Blondes, The Seven Year Itch, Some Like It Hot and The Misfits.
The star died on 5 August 1962.