Two arrested after puppy trafficking investigation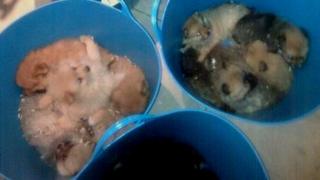 More than 80 puppies have been seized and two people arrested during a puppy trafficking investigation, the RSPCA has said.
The dogs, including French Bulldogs, West Highland Terriers and Pomeranians, were found during three search warrants across Greater Manchester on Wednesday.
A man was held on suspicion of breaching a ban on keeping animals.
A woman was arrested on suspicion of aiding and abetting the male to breach the ban. Both people have been bailed.
The RSPCA said puppy trafficking involves breeding dogs in large numbers, with the animals sold off and often transported overseas in poor conditions.
'Money makers'
It added that the investigation was also looking at the alleged sale of sick dogs via internet adverts.
During Operation Pagan, four dead puppies were also found, including two in the footwell of a parked car.
The RSPCA said all 87 of the puppies were now in its care pending the outcome of the joint investigation with Greater Manchester Police.
A vet inspected the animals and determined that six were in need of treatment for sickness.
Ch Insp Ian Briggs, from the RSPCA's special operations unit, said: "There are thousands of dogs in rescue centres desperately looking for new homes, but many people continue to fuel the trade in imported puppies by buying from rogue sellers who simply see the animals as money makers."