'Up to 900 more jobs' to go at Manchester City Council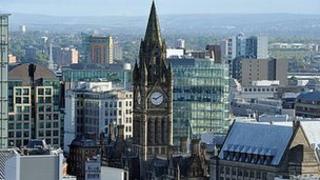 Manchester City Council has confirmed up to 900 jobs could be cut as the authority tries to make savings of about £80m over the next two years.
The city has seen its budget cut by almost £170m since its government funding was reduced last year.
Two-thousand posts have already been lost through budget cuts.
The authority is going to open a voluntary severance package for staff in preparation for the reductions which will be announced next month.
Council Leader Sir Richard Leese said it would "put even more pressure on our services" and the council would have to "radically rethink how we provide for Manchester people".
He said: "Staffing costs are a significant proportion of expenditure and we believe that the necessary reduction could be in the region of 700 to 900 posts.
"As a result we are introducing a voluntary early retirement and severance schemes, although no applications will be approved until after we have received our settlement from government and on that basis have set a budget.
"The council remains committed to aiming to avoid compulsory redundancies."
A spokesman for the Department for Communities and Local Government (DCLG) said: "No decisions have yet been made on the details of future years' funding, ahead of the Autumn Statement and Local Government Finance Settlement.
"Councils account for a quarter of all public spending - this year English councils will spend £114b - so it is vital they continue to play their part tackling the inherited budget deficit by making sensible savings through better procurement, greater transparency and sharing back offices.
"We are giving local councils a fair deal, this year Manchester had a total spending power on each household of £2,390 to protect the front-line services people rely on, £200 more than the English average of £2,186."