Barry Thew loses appeal for T-shirt mocking PCs' deaths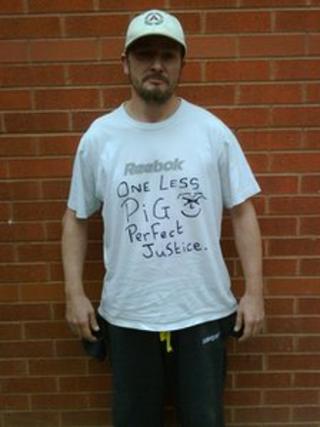 A man who wore a T-shirt mocking the killing of two police officers has lost his appeal against his sentence.
Barry Thew, 39, was arrested wearing the top with the words "one less pig perfect justice" hours after the deaths of PCs Fiona Bone and Nicola Hughes.
Thew, of Wolsey Street, Radcliffe, was jailed for eight months in October after admitting a public order offence.
Lord Chief Justice Lord Judge, at the Court of Appeal, said the jail term was not "arguably excessive".
PC Bone, 32, and PC Hughes, 23, were shot dead in a gun and grenade attack while reporting to a burglary on the Hattersley estate in Mottram, Greater Manchester.
'Serious offence'
Lord Judge said Thew, who openly admitted hating the police as he held them responsible for the death of his son, committed the offence in a highly charged environment.
"Our judgment is that this, of its kind, was a most serious offence.
"It sent out the sort of message just at the time, and in just the place, where it constituted a true risk to the peace of the streets."
"It would have taken very little on that day for violence to erupt against those - or as a result of seeing those - who appeared to condone, if not glory, in the fact that those police officers had been killed."
Dale Cregan, 29, has been charged with the officers' murders.