Firm fined £100k over gas blasts at Manchester development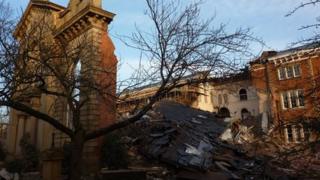 A property development firm has been fined £100,000 following two gas explosions at a former hospital in south Manchester.
P J Livesey Group Ltd was prosecuted by the Health and Safety Executive (HSE) following the blast at the Didsbury Gate development in December 2009.
The firm had previously pleaded guilty to two health and safety breaches.
The former Withington Hospital building was being converted into apartments when a worker cut through a gas pipe.
He suffered burns to his hands and face when gas inside the pipe ignited.
An hour after the first explosion on Nell Lane there was a second, which is believed to have been caused by the first.
Two other people suffered minor injuries as a result of the explosions but the emergency services had evacuated hundreds of homes, three schools and a police station to avoid any possibility of further casualties.
Minshull Street Crown Court was told that PJ Livesey Group Ltd had obtained a diagram from National Grid during the planning stages of the project which showed a gas main running into the site.
However, the company did not arrange for a detailed survey to be carried out to find out where the pipe ran, and wrongly informed workers on the site that the gas pipes had been decommissioned.
Thomas Merry from the HSE said: "A simple check would have identified it as being live, and avoided months of disruption and heartache for those residents who lost their homes."
Judge Jeffrey Lewis said the explosion had "potential consequences that could have been catastrophic" and the risk to life or property was "enormous".
Fining the company £100,000 and ordered it to pay prosecution costs of £21,400, he said he had taken into account that the company had pleaded guilty to failing to ensure safety and had taken steps to prevent such an accident happening again.
He said the company had an unblemished record for 30 years.