Cyril Smith abuse case: Accuser makes inquiry call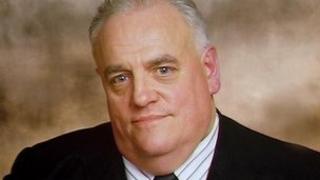 A man who claims to have been physically abused by the late Sir Cyril Smith has called for a "full public inquiry" into the allegations.
On Tuesday, Greater Manchester Police (GMP) acknowledged the Liberal Democrat MP for Rochdale was a sex abuser of boys in the late 1960s.
Twelve men have so far accused Sir Cyril of abusing them in the 1960s.
Ronald Alan Neal said "other people" had known about the abuse and there were "questions to answer".
Mr Neal's statement followed one by solicitor Alan Collins, who represents another of Sir Cyril's alleged victims, claimed that the failure to charge Sir Cyril with sex abuse meant "justice has been cheated".
Mr Collins said the victims had been vindicated "40 or 50 years too late".
The abuse by Sir Cyril was said to have taken place at Cambridge House Children's Home, a privately-run care home which closed in 1965, and the council-run Knowl View residential school, which shut in 1992.
'Very tragic'
Mr Neal made a complaint to police on 15 November that he had been physically abused by Sir Cyril at Cambridge House when he was 11.
Speaking to Radio Manchester he said he had made complaints in the 1960s, but had given up when no action had been taken.
"The issue was that adults didn't believe the kids when they said things weren't right," he said.
"I'm extremely angry it has taken so long - hopefully they will do the honourable thing and hold a full public inquiry where the victims can have their say and people will believe them."
A GMP spokesman said eight victims originally came forward in the 1960s, with two more coming forward in 1999 and a further two, including Mr Neal, making claims following recent media coverage.
The Crown Prosecution Service (CPS) has admitted Sir Cyril, who was a Labour councillor in the 1950s and 60s, should have been charged with sex crimes more than 40 years ago.
Although he faced no action following inquiries in 1970 and the 1990s, the CPS said procedural changes meant a prosecution would have been pursued today.
In a statement, Sir Cyril's family said they were "deeply saddened and concerned" about the allegations "made so long after Sir Cyril's death and at a time when he is no longer able to defend himself".
GMP has now assumed overall command of the investigation after working alongside Lancashire Police.