NHS criticised after Andrew Moore's death in Stockport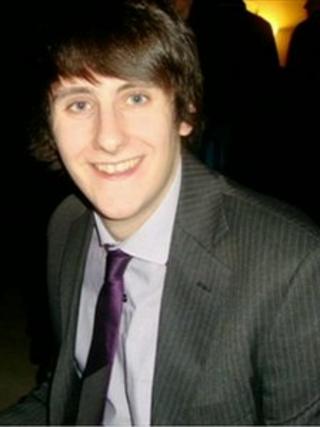 A student who complained of feeling unwell was sent home from hospital on five separate occasions before he collapsed and died at the family home.
Andrew Moore, 20, of Stockport, was admitted to three different hospitals after complaining of dizziness.
On his last visit, he was prescribed anti-anxiety medication and discharged but died in his father's arms less than 24 hours later.
The hospitals said they were reviewing their involvement with Mr Moore.
Taking exams
A post-mortem-examination to determine how Mr Moore died proved inconclusive and an inquest is yet to be held.
His father, Peter Moore, said his son had "begged to be kept in hospital for observation".
"We didn't feel it was a panic related illness," he said.
"He was taking exams at university, but nothing that other students would not be going through."
Mr Moore, a Manchester Metropolitan University IT student, had an operation in 2011 for an arteriovenous malformation (AVM), an abnormal connection between veins and arteries.
The first time he collapsed, he was taken to Leighton Hospital, but tests failed to find anything wrong.
He collapsed again the next day, and was taken to Wythenshawe Hospital, where he was prescribed an anti-anxiety drug.
He was seen a further two times at the hospital, before being referred to the Stockport Mental Health Crisis team.
On 11 October, after collapsing in his bedroom, Mr Moore was rushed to Stepping Hill Hospital.
Peter Moore said: "He was told that he wasn't sick and that he was fit to go home.
"He was prescribed Diazepam and was discharged that evening. He died in my arms less than 24 hours later."
A Stepping Hill Hospital spokesman said an investigation was under way "to find out exactly what happened and why".
Leighton Hospital expressed its condolences to the family and said it was helping the coroner with inquiries.
Wythenshawe Hospital said it was reviewing its involvement with Mr Moore and would be happy to meet the family.