Greater Manchester MPs' bus firm ambulance concerns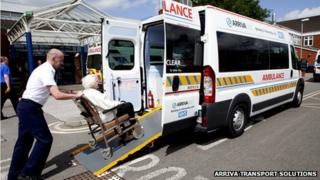 Two Greater Manchester Labour MPs have condemned the award of a contract to run non-emergency ambulance services to the transport company Arriva.
Graham Stringer and Paul Goggins from Wythenshaw and Sale East tabled a Commons Early Day Motion, saying they were "appalled" at the move.
They claim Arriva did not meet cleanliness and infection standards in a similar service in Leicestershire.
Arriva said that the motion was "disappointing and misleading".
'Infection concerns'
The MPs' motion stated: "This House notes that the Care Quality Commission (CQC) during its inspection of the ambulance transport service in Leicestershire run by Arriva found it was not meeting standards in staffing, cleanliness, infection control, safeguarding people who use services from abuse, care and welfare of people who use services and assessing and monitoring service provision; and therefore is appalled that the contract to run the non-emergency ambulance service in Greater Manchester was awarded to Arriva from March 2013."
Mr Goggins said the CQC report also found that Arriva's ambulances were late collecting patients and its staff were being employed before their Criminal Records Bureau checks were complete.
The ambulance service will be run by Arriva Transport Solutions, a subsidiary of the bus and train company.
An Arriva Transport Solutions' spokesperson said the company had welcomed the inspection of its East Midlands services by the CQC which "found no areas where enforceable action was required" but "highlighted areas which needed further improvement".
It said the CQC action plan related to "improving auditing and administration processes".
"For example, at the time of the inspection we were actively briefing our people to ensure better recording of the deep cleaning of our vehicles which was already taking place to the high standards expected," said the spokesperson.