Medieval guide to party crashing in Iraq reveals 'different' Islam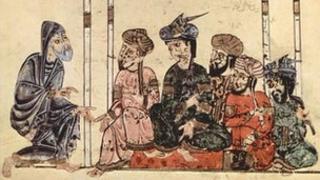 A Muslim preacher's guide to "party crashing" in 11th Century Iraq challenges "ill-informed ideas" of early Islam, its translator has said.
The University of Manchester's Dr Emily Selove said al-Khatib al-Baghdadi's text contained "flirtation, profanity and even a little drunkenness".
She said its perspective was different to "the austere image" of the period.
She said ignorance existed because "so little of the literature produced at that time has been translated".
Her translation, titled The Art of Party Crashing, features "the most famous gatecrasher of the time", a man called Bunan, who Dr Selove said was "a cross between Falstaff and Robin Hood".
She said it was "a tongue in cheek compilation of stories, advice and anecdotes" which was written by the preacher to remind readers "that every serious minded person needs to take a break".
'Banquet literature'
She said it was a "light and really quite an enjoyable read", but had "serious messages too".
"The book is about generosity and encouraging individuals to express themselves eloquently and clearly," she said.
"It also suggests that turning a hungry person away from a place laden with food was cruel - as food was sometimes in short supply to the poor."
She said the book was part of a "genre of banquet literature [which contain] stories about tricksters and rogues, people getting drunk and having a good time".
"This book, which contains flirtation, profanity, and even a little drunkenness, is a lot of fun and offers a rather different perspective to the austere image Islam has from that period," she said.
"The reality is that the Baghdad of 1,000 years ago was actually rather Bohemian - it wasn't perfect by any means, but [also was] not the violent and repressive society you might imagine it was.
"Such ignorance is probably down to the fact that so little of the huge body of literature produced at that time has been translated into English."