David Lee Collins' funeral held after Ayia Napa death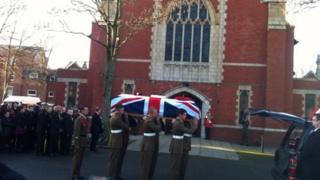 A soldier stabbed to death in Cyprus has been buried with full military honours in Greater Manchester.
Fusilier David Lee Collins, 19, was stationed near Ayia Napa and was killed in a nightclub in the resort on 4 November.
It happened just before he was due to go to Afghanistan with the Royal Regiment of Fusiliers
His funeral took place with a full requiem mass at St John's Church in Chorlton.
His commanding officer Lt Col Mike Butterwick said: "The army was going to be his life.
"He was loyal, he was hard-working, he was diligent, he loved the army.
"He was a true fusilier."
Three teenagers from the UK face trial for his manslaughter next year.