Reward offered over Stockport farm sheep killings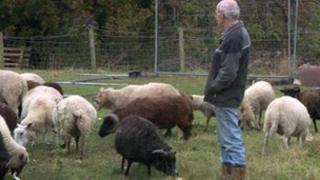 A reward of £1,000 is being offered for information leading to the conviction of thieves who sliced the legs off live sheep on a Stockport farm.
Three attacks have been reported to police during the past month at Lion House Farm, Cheadle Hulme, with a total of 11 sheep killed.
Animal charity PETA offered the reward after hearing of the "horrific abuse".
Greater Manchester Police is investigating. It is thought the meat could be sold on the black market.
'Danger to everyone'
Ben Williamson, of PETA (People for the Ethical Treatment of Animals), said: "It is imperative that any community faced with such horrific abuse of animals take measures to find the culprit or culprits and stop the violence.
"Animal abusers are a danger to everyone - they take their issues out on whoever is available to them, human or non-human."
Farmer William Perkins described the incidents as "barbaric" and "distressing".
He found the carcasses from his flock of about 70 rare breeds, which includes pregnant ewes and sheep up to two years of age.
The National Farmers' Union (NFU) urged farmers in the area to be vigilant and warned the public not to buy meat on the black market.
Bill Mellor, of the NFU, said: "The way in which these helpless sheep have been treated by heartless criminals is disgusting and the perpetrators need to be found quickly."